MSIG EZ-Mile is an add-on for..
MSIG Private Car Comprehensive Policy
MSIG Private Car with Driver's PA
MSIG Motor Plus
MSIG Lady Motor Plus
..that lets you pay-as-you-drive, with a lower premium when you commit to drive within a specific mileage during the year. With this add-on, you will also get a complimentary MSIG microtag that connects to your smartphone to track your mileage and help you to call for roadside assistance when you need it.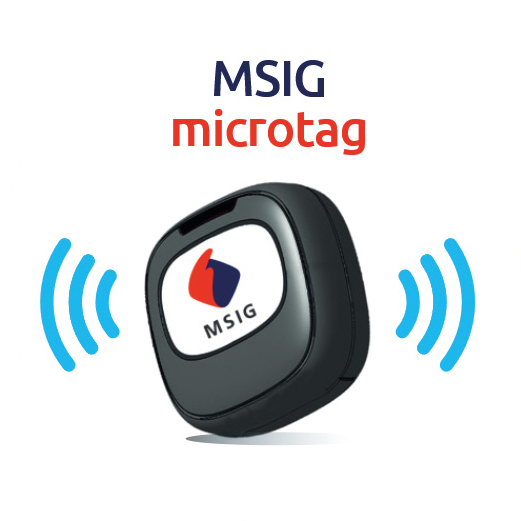 MSIG Microtag
Your MSIG EZ-Mile Motor Add-on comes with the MSIG microtag, a wireless, Bluetooth-enabled device that consists of several features. It is easy to fix in your car and pair with your smartphone.
Top-up reminder


Pings you when you almost exceeded your Allocated Mileage

Safe Driving Alert


Beeps a warning when you are texting while driving above 20km/h

eCall – Automatic accident detection & response


Automatically sends crash details to an authorized call centre

bCall – Concierge Emergency


Request 24-hour breakdown or emergency roadside assistance with one button
Automatic mileage recording

via MSIG microtag

Pay As You Drive (PAYD)


View driven mileage, receive top-up reminder and safety assistance in the event of car breakdown or emergency.
Pay a lower premium on your motor comprehensive insurance based on a low anticipated mileage usage for the year.
There are 3 plans available for you to choose:
| | |
| --- | --- |
| PLAN | MILEAGE IN KM (PER ANNUM) |
| A | 0 UP TO 5,000 KM |
| B | 0 UP TO 10,000 KM |
| C | 0 UP TO 15,000 KM |
| TOP-UP | EACH 3,000 KM |
Cover for Windscreens, Windows and Sunroof
Separate Cover for Accessories fixed to Your Car
Gas Conversion Kit and Tank
Legal Liability to Passengers
Smart Key Shield (Non-Tariff)
24-Hour Unlimited Towing Service (Non-Tariff)
Driver's PA Cover (Non-Tariff) (applicable only to MSIG Private Car with Driver's PA Insurance Policy)
Driver's Personal Accident (Non-Tariff)
Policyholder's Personal Accident Cover (Non-Tariff)
Loss or Damage to Personal Belongings (Non-Tariff)
Transportation Allowance (Non-Tariff)
Limits of Liability for Third Party Property Damage (TPPD)
Current Year "NCD" Relief